Must Have K'Experiences
Whether you seek an adrenaline-packed adventure with friends, family time with kids or a romantic escape with your loved one at an affordable beach resort, Kandima Maldives has got you covered!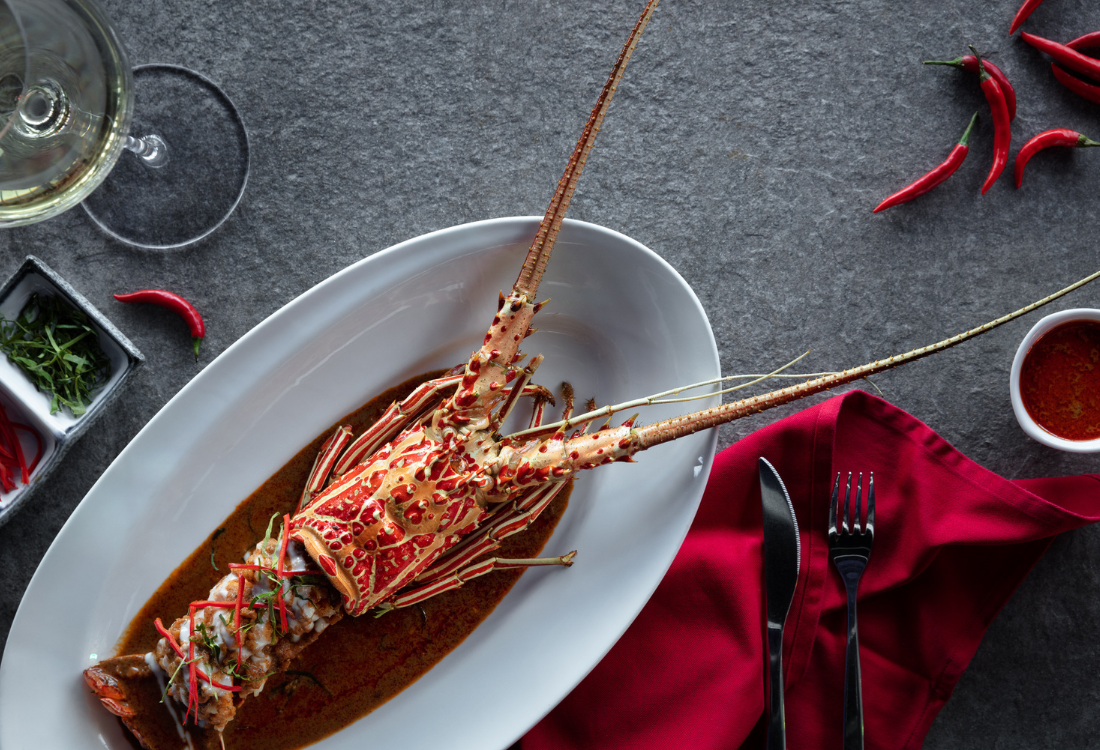 Dining at Kandima Maldives
Dining at Kandima Maldives is like no other! With 10 unique restaurants and bars, you're spoilt for choice. Fancy a date with the dragon? Try out our signature restaurant Sea Dragon for a culinary adventure! For all meat lovers, the steak hotspot Smoked is a must-try. The choice is all yours!
Kandiland
At Kandiland, one of the largest kids club in the Maldives, our little VIP guests will be in for a fun time! With our dedicated, multilingual team of fully certified child caregivers, a jam-packed programme of fun activities and our very own waterplay zone, your kids will be beyond entertained!
Aquaholics
Make the ocean your playground at Aquaholics, our dive and water sports centre! Aquaholics offers a variety of pursuits from PADI certified dive courses to adrenaline-filled activities such as parasailing, wind surfing, jet ski and sea bob. You can also go on night fishing trips, big game fishing, turtle quests and sunset cruises to name a few!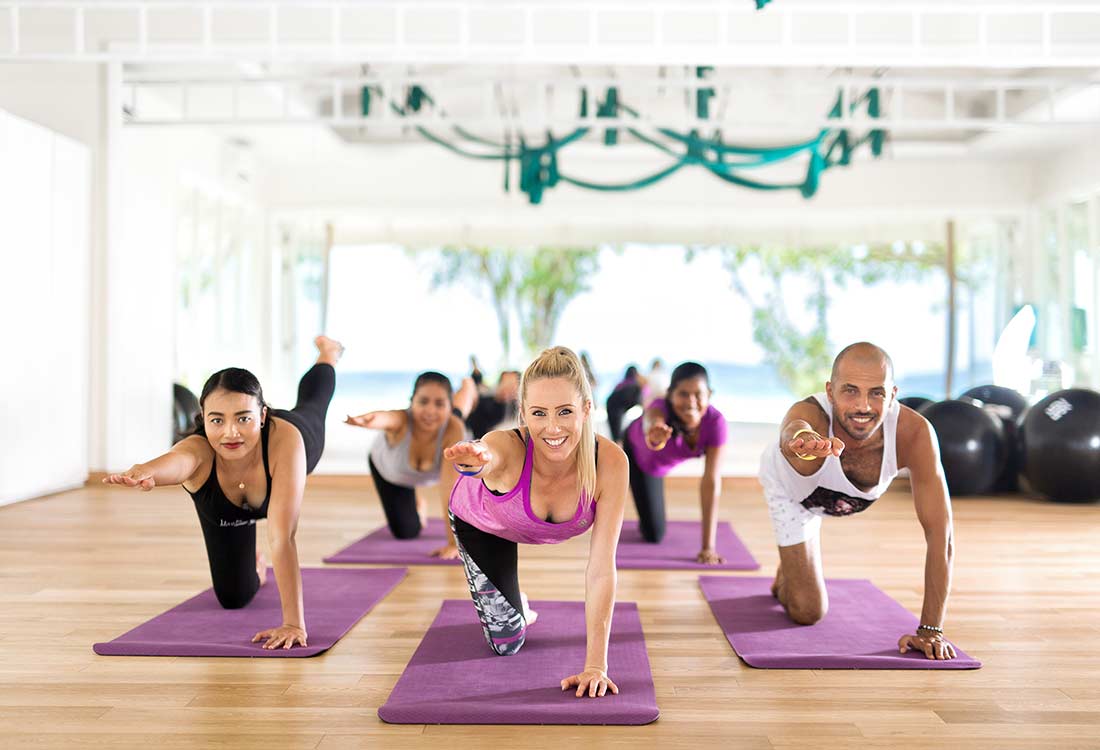 Fitness
For all fitness fanatics Kandima is the go-to (desti)nation for an epic tone-up getaway! From cardio blast, POUND to Aerial Yoga, a wide range of high-octane activities is here for you.
Art
Unleash your inner Picasso at the KULA Art Studio with our Maldivian resident artist!
esKape Spa
Not only is Kandima the ideal (desti)nation to be vibrant and "just play", but it's also the perfect place to rest and reset. Check out the various treatments at esKape Spa that will help you do just that!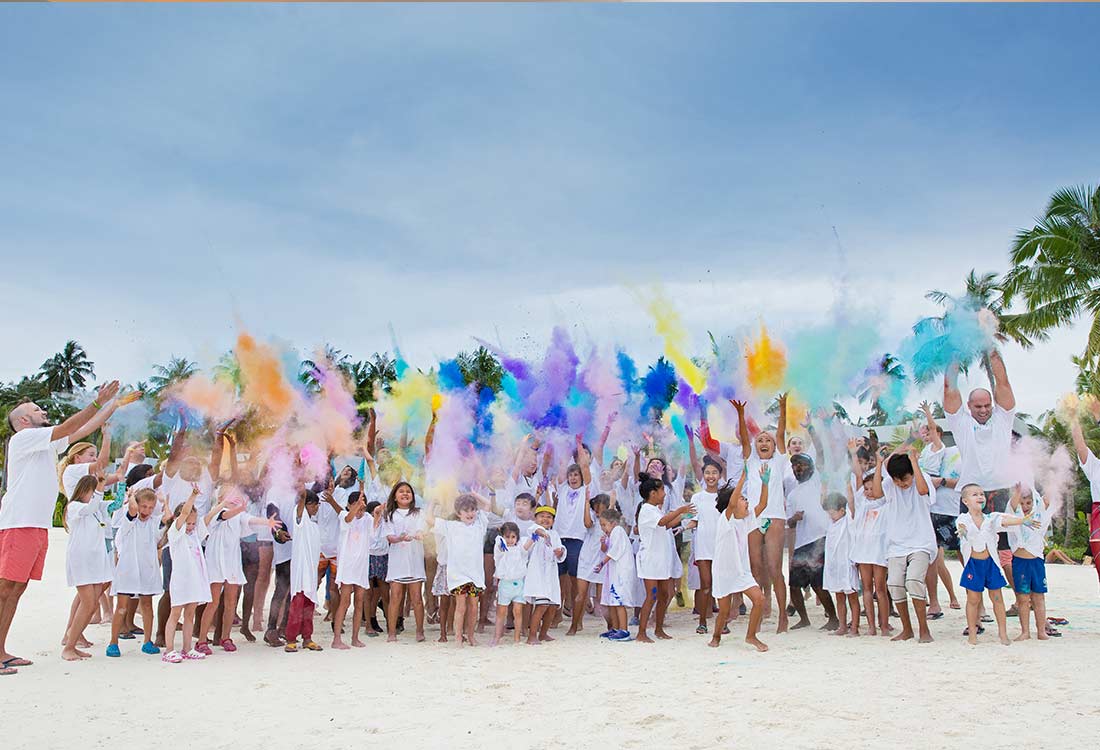 Events
Look out for all Kool events – from KULA art festival, pool parties, beach games, fitness events – we cater to all that is Kool and awesome!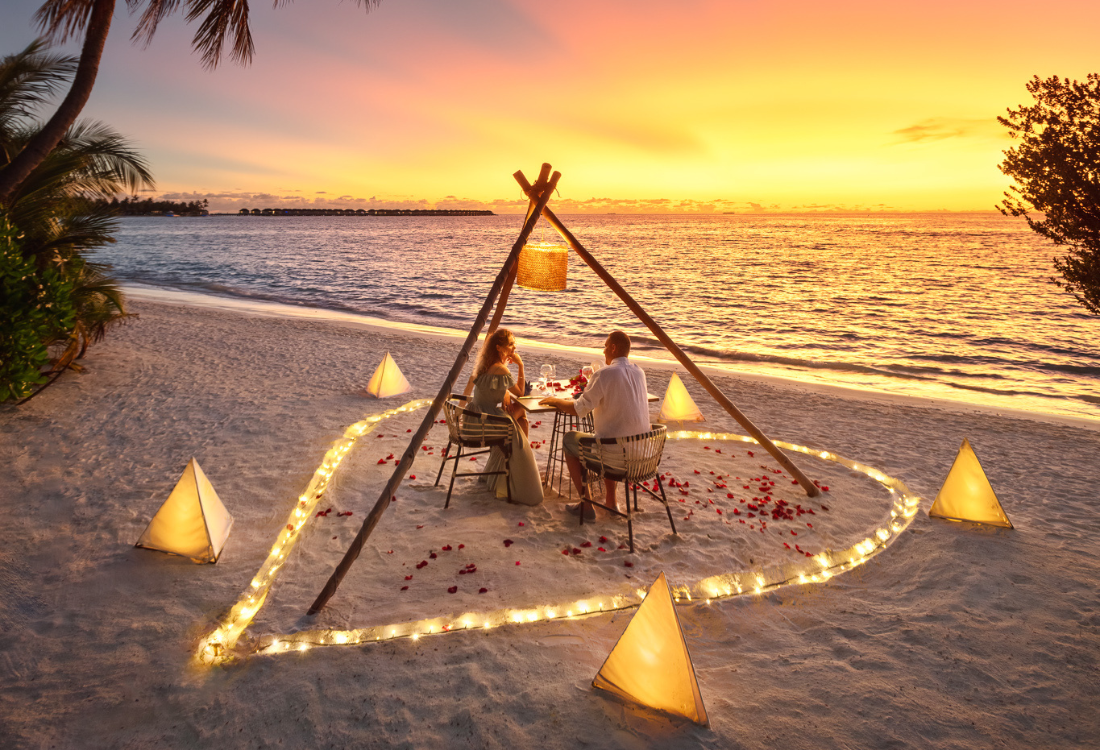 Private Dining for Special Occasions
Candlelit on the beach or over water inside our Beach Club UFO, Kandima has plenty of uber-kool locations to celebrate and toast to life in a romantic hideaway.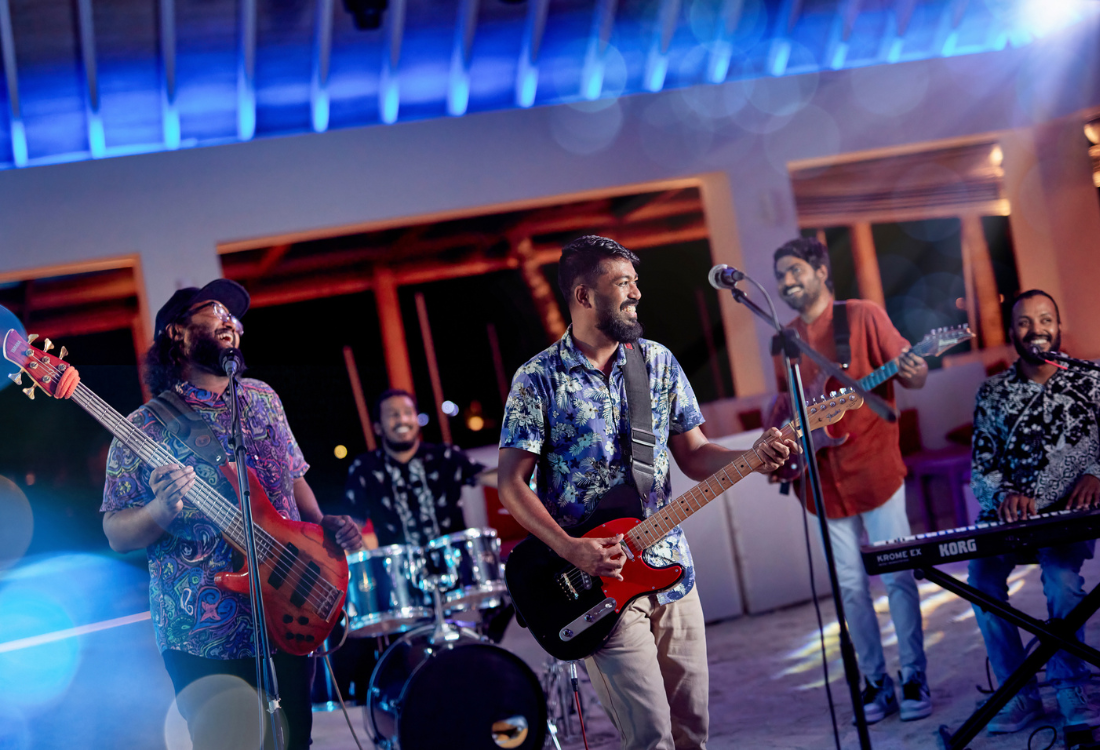 Live Music
At Kandima Maldives we take music seriously. That's why we invite live bands and DJs to entertain you during your holiday. Enjoy live music, DJ and creative cocktails at Breeze Pool Bar.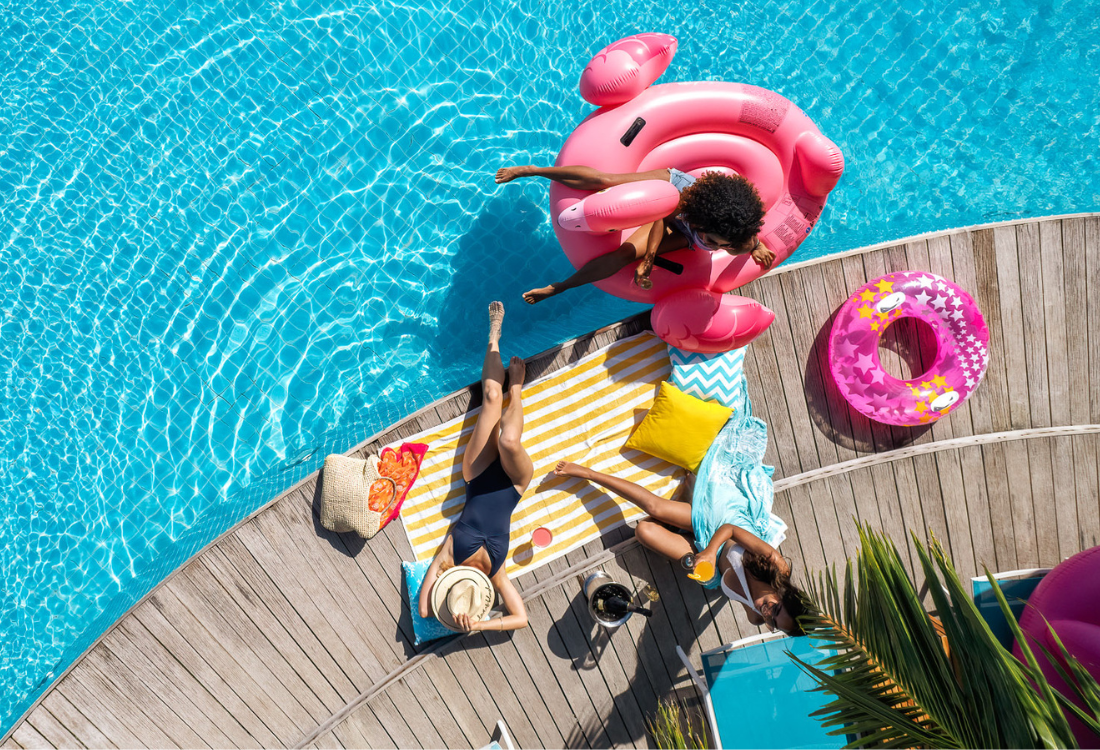 Pool Party
Lose yourself to groovy house beats by Maldivian DJs while sipping on a flirty fusion of cocktails, all in a chic atmosphere with stunning views of the Indian Ocean. Join us at Beach Club and Breeze Pool Bar for the ultimate poo party of the year!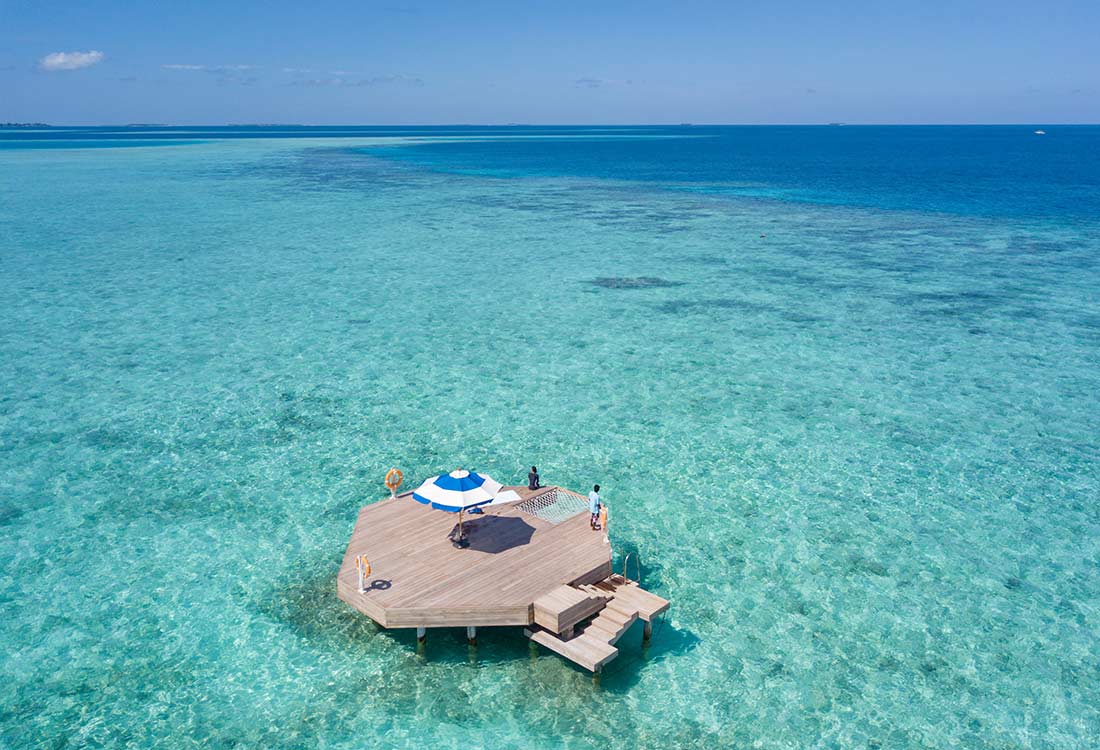 Snorkelling from the Overwater Platform
Join one of our six complimentary snorkelling excursions that take place daily from HQ (Front Office). Discover the beauty of the house reef, which is home to a vibrant array of fish, diverse corals and other marine species.
Daily, Morning: 9.00. 10.00, 11.00.
Afternoon: 14.00, 15.00, 16.00