Snorkel in aqua paradise!
Get ready to embark on a snorkelling escapade beneath the blue of Kandima's aquatic wonderland. Grab your fins and off you go, unravelling the secrets of Kandima's very own house reef. Or, if you're feeling like having a fin-tastic sidekick, let our cheerful Krew be your guides! They know the Dhaalu Atoll like the back of their flippers, and would be ecstatic to show you its breathtaking wonders.


Snorkelling Lesson
Let us guide you through the currents of Kandima's lagoon and the ocean beyond. Our expert Aquaholics Krew is here to be your navigational buddies, your underwater mentors, and your partners in oh-so-splashy crime!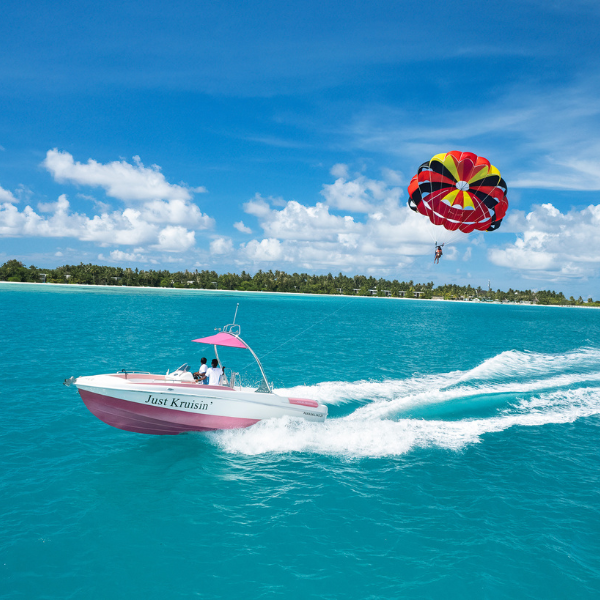 House Reef Snorkelling
Join one of our six complimentary snorkelling excursions that take place daily from HQ. Discover the beauty of the house reef, which is home to a vibrant array of fish, diverse corals and other marine species.
Turtle Quest
Hold on to your flippers, because guess who's dropping by for a swim? Majestic sea turtles! Learn fun trivia about the ocean's most likeable creatures and capture a snapshot of these gentle gliders in their natural habitat.
More Activities
Diving
Are you ready to embark on an aquatic escapade that's anything but ordinary? Look no further than Aquaholics in our tropical paradise, where underwater thrill meets a touch of magic.
Excursions
Explore the hidden wonders beyond our island (desti)nation. Get swept up in charming landscapes as you set off on an oh-so-dreamy journey.
Watersports
Unveil the exhilarating escapades awaiting you at Kandima! Each day presents a fresh chance to embrace your inner wild child – whether you're up for kayaking over the waves or letting the motorised thrills whisk you away.