READY, SET, SKYDIVE!
#JumpAtKandima
We are literally (free) falling for you thanks to a kool new skydiving programme. Get into your jumpsuit, strap on your goggles, board the aircraft and experience the most adrenaline-fuelled moment of your life as you and your experienced instructor edge towards the door and launch into the sky at 12,000 ft! You'll reach speeds of up to 200 km/hr before your canopy opens and you slow down. As you parachute down, enjoy the 360-degree view of our breath-taking (desti)nation like no other before your safe landing in Kandima Maldives!

Run by Skydive Maldives, this ultimate adrenaline booster is THE must-do activity during your stay at Kandima. Especially for professional licensed skydivers, extreme adventure enthusiasts and first-timers who can tandem jump with one of our seasoned instructors. So, what are you waiting for?

Tick something off your bucket list and book your tandem skydive experience at Kandima now!
Contact This email address is being protected from spambots. You need JavaScript enabled to view it. for more information.


TAKE THE (TANDEM) LEAP!
Make a tick on your bucket list! Take a tandem skydive, the quickest and easiest way to experience the thrill of freefall at over 120 miles per hour, while securely harnessed to one of our experienced and accomplished instructors. Adrenaline enthusiasts can live this adventure at our world-class island location and drop zone at Kandima!
THINGS TO NOTE BEFORE TAKING THE (TANDEM) SKYDIVE!
Tandem skydive for one guest without camera footage
Tandem skydive for one guest with hand-held camera footage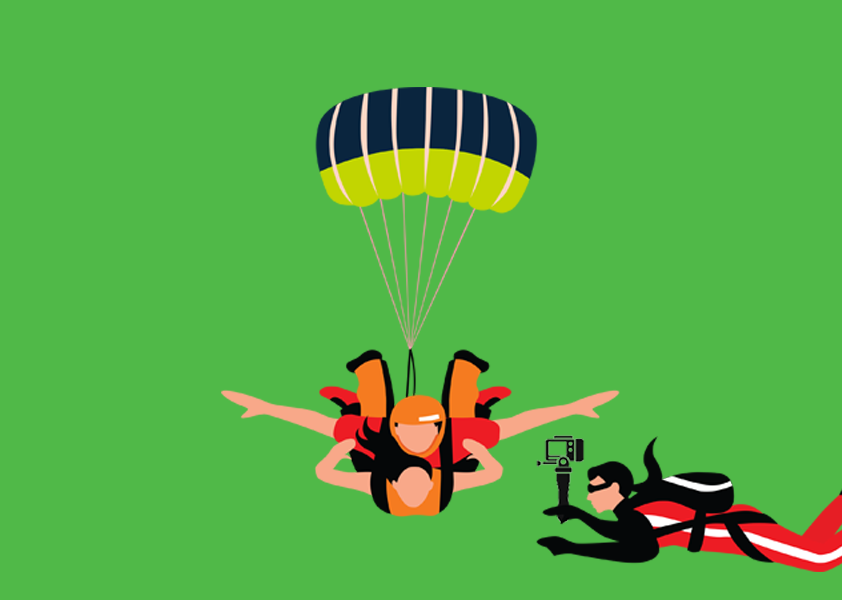 Tandem skydive for one guest with exterior camera footage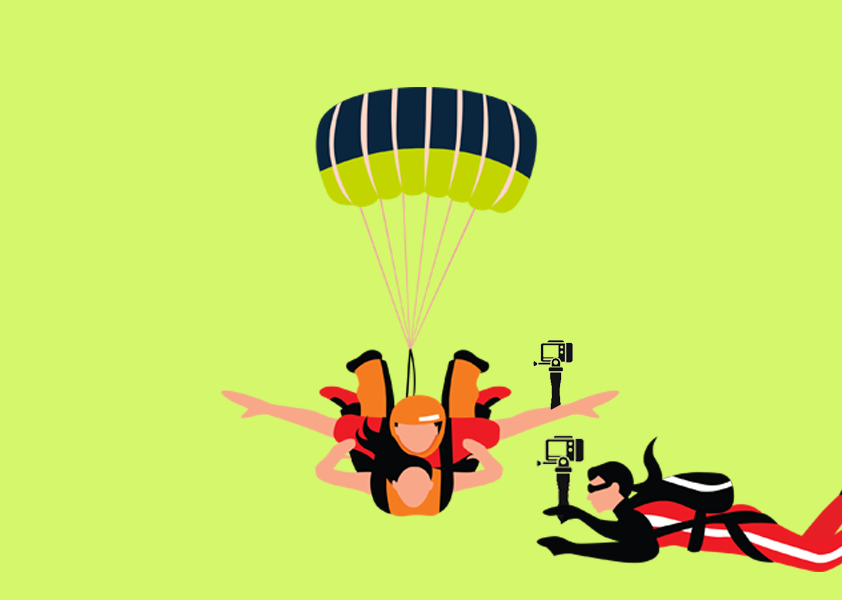 Tandem skydive for one guest with one hand-held and one exterior camera footage
The ultimate jump for experienced skydivers
Skydive Maldives also offers two options for the more experienced adrenaline jumpers out there; group and solo skydive packages.

To qualify you must meet our requirements below:

• Must have done a minimum of 200 jumps.
• Hold a B-license of equivalent with water course.
• Have third-party insurance.
• Make sure your logbook is up-to-date and stamped and signed by a licensed skydiver.
• Should have done at least one jump one month prior to your skydive at Kandima Maldives.

Please read the 'Important section' for details on how to best prepare for your skydive, qualifying conditions for your jump and what to expect on the day of the group or solo skydive.


Minimum of 5 experienced jumpers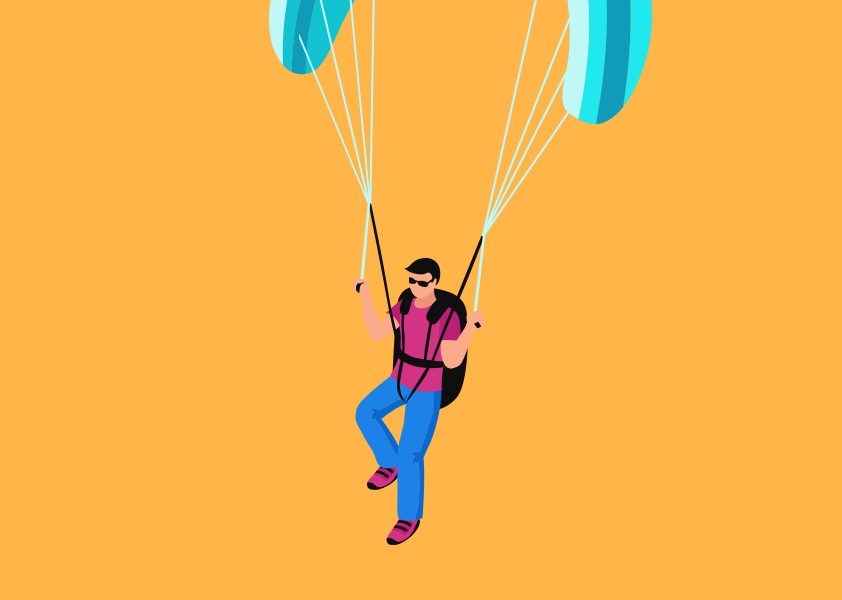 Tandem skydive for one guest with hand-held camera footage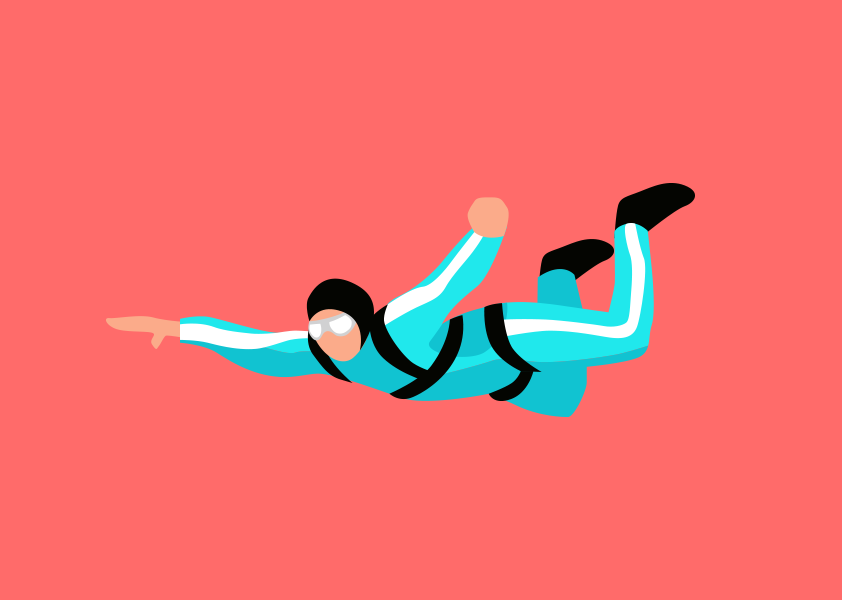 Maximum of 16 experienced jumpers
Important section
Read on for more information on what to expect on the day of your skydive, details on the schedule, booking and refunds, and our terms and conditions.


+ What to expect?

+ What to expect?

• Upon arrival to Dhaalu, guests will be welcomed by our Jump in Maldives skydiving team.

• At the airport, clients will undertake a 15 minutes safety and instruction briefing prior to boarding the specially modified Cessna 208, customised especially for sky diving.

• The flight will take around 20 minutes in total. The clients and instructors will jump at an altitude of approximately 12,000 ft. The jump itself takes around 6 minutes from leap to landing: approximately one minute of freefall with extreme speeds of 200 km/hr, upon opening the parachute a descent of around 5 minutes, ready to land on the beach.

+ Schedule, Booking and Refunds:

+ Schedule, Booking and Refunds:

• Skydive Maldives is open every day (subject to weather) between 8:00 am till 5:30 pm.

• Minimum of 2 guests per booking. However, it's possible to arrange for one guest if he/she is willing to pay the price of 2 guests.

• Guests who cancel their jump prior to take-off are entitled to a refund of 50% of their jump ticket value.

• Guests who cancel their jump after take-off are not entitled to any refund.

• Guests who have their jumps cancelled by us due to bad weather or other circumstances can reschedule or receive a full refund.

• Please bring a valid local ID or official Passport on the day of your skydive.

• Female skydiving instructors available from 15th January 2021 onwards.

+ Booking Requirements - Terms & Conditions:

+ Booking Requirements - Terms & Conditions:

For safety, all guests who attend Jump in Maldives skydiving sessions should:

• Be in good health and have no history of heart disease.
• Not have consumed excessive alcohol prior to their session.
• Not exceed 100 kg in body weight.
• You must be 12 years of age or above (according to the Gregorian calendar) on the day of your tandem skydive.
• You should sign a declaration of fitness and health before you skydive. In case you declare that you suffer from or have previously suffered from any of the conditions listed below, you will only be allowed to skydive post the signing of the declaration and discussion with the instructor.. This is essential for both your safety and the safety of your instructor.

o Epilepsy and fits
o Past severe head injury
o Recurrent blackouts or giddiness
o Disease of the brain or nervous system
o High blood pressure
o Heart or lung disease
o Dislocated shoulder or other limb(s)
o Recurrent weakness
o Diabetes
o Mental illness

For more information on individual case related clarification please connect with the Skydive Maldives team or talk to our HQ.

• If you are pregnant, you should not skydive
• Please avoid scuba diving at least 24 hours prior to your skydive.
• Skydive Maldives has a zero-tolerance alcohol and/or drugs policy. There must be no alcohol or drugs in your system 24 hours before your skydive.